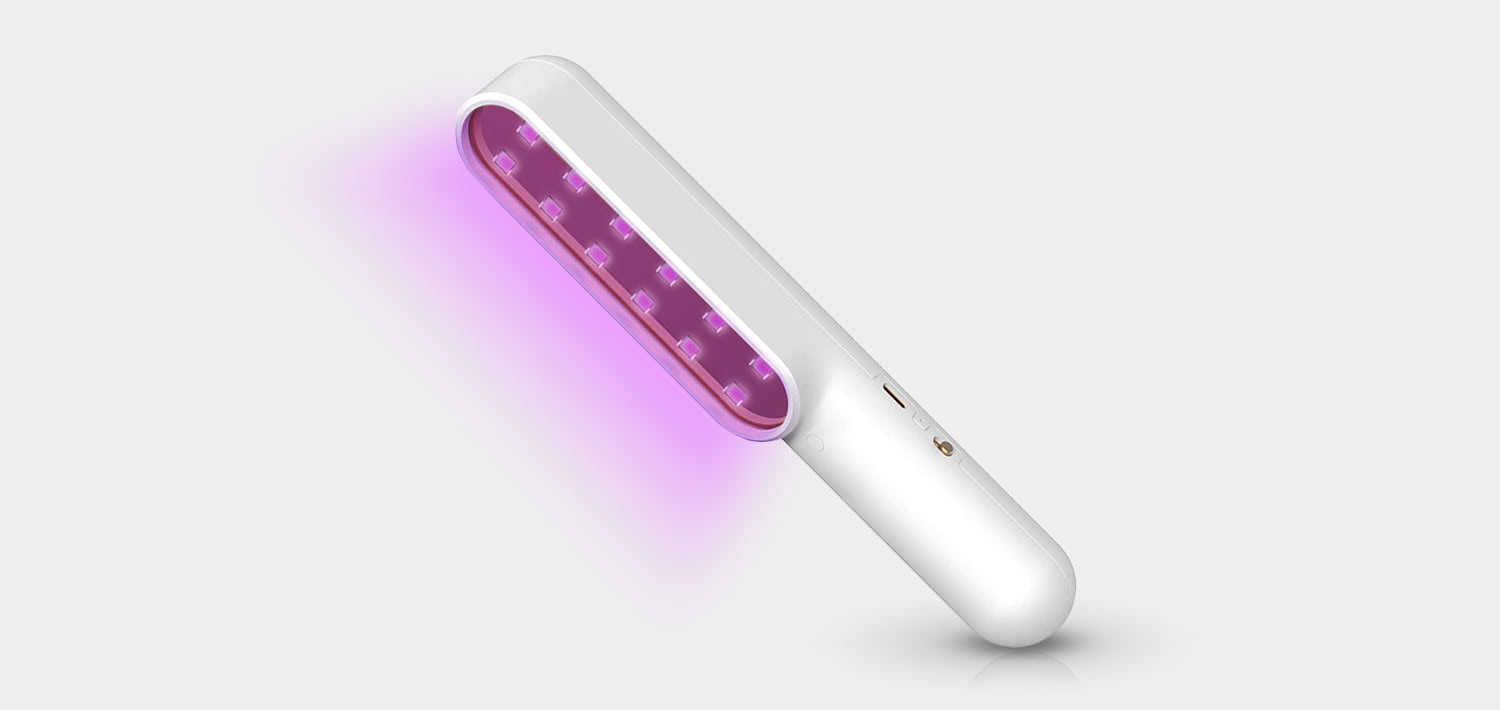 Description
The PurpleGlow is an easy-to-use UV-C wand for sanitization of surfaces and objects such as beds, pillows, keyboard, towels, toilets, toys, and much more.

It works by using UV-C light to kill or prevent bacteria from pursuing their functions and increasing in numbers. Their abilities become limited because the UV-C light targets their DNA directly, forcing the bacteria to lose its strength.

Powered by 7 watts of UV-C light, PurpleGlow sanitizes surfaces and objects in 10 seconds, effectively disposing of 99.9% of the pathogens, molds, spores and residue vermin at the press of a button. Simply hold your PurpleGlow over surfaces or objects and move it from side to side to destroy the pathogens.

The PurpleGlow also comes with a child lock protection to prevent unwanted or unattended use of the wand.

Read More Photos
---
Highlights
UVC Technology
Lightweight
Child Safety Lock
Kills 99.9% of Bacteria
USB Power Charge
CE, FCC, ISO Certified
Specifications
| | |
| --- | --- |
| Product Name | PurpleGlow |
| Technology | UVC LED Light |
| Cleaning Application | (99.9%) Germs, Fungi, Bacteria, etc. |
| Certifications | CE, FCC, ISO 14001, ISO 9001 |
| Disinfection Time | Approx. 10s |
| LED Wavelength | 260-280nm |
| Lifespan | 10000+ Hours |
| Power Input Method | USB Type C |
| Battery | Recharable 2000mAh Lithium-Ion Battery |
| Size | 21.9 x 3.4 x 4cm |
| Weight | 270g |
| Warranty | 12 months |
Popular Questions
Does UV-C light technology have any side-effects?

It's very important that you never look directly into the UV-C light and never direct the light to human skin or eyes. Prolonged exposure to UV-C light can be dangerous to your skin.

How does UV-C technology work?

UV-C has been proven to kill up to 99.9% of germs. Many hospitals use it to sanitize rooms, medical tools, sinks and more. UV-C light damages the DNA and RNA of germs eliminating their ability to reproduce and enhances killing efficiency and odour elimination.
You May Also Like